Introduction
Kovalam Beach, a popular tourist destination, offers a unique blend of tranquillity and adventure. Located in Kerala, India, this enchanting coastal paradise attracts visitors worldwide. Whether you seek serene moments of relaxation or thrilling water sports, Kovalam Beach has something for everyone.
Location and Background
Situated along the Malabar Coast, Kovalam Beach is in the southern part of Kerala. With its breathtaking natural beauty and rich cultural heritage, it has become a must-visit place for travellers. Historically, Kovalam Beach has been an integral part of the region, embodying the essence of Kerala's coastal charm.
Natural Beauty of Kovalam Beach
Kovalam Beach boasts a pristine sandy shoreline that stretches for miles. The crystal-clear waters of the Arabian Sea gently kiss the shore, creating a mesmerizing sight. Visitors are treated to majestic views of the sea, which provide a sense of tranquillity and serenity. The beach is also renowned for its picturesque sunsets and sunrises, painting the sky with vibrant hues.
Tranquillity at Kovalam Beach
One of the remarkable aspects of Kovalam Beach is its serene atmosphere and peaceful surroundings. The beach offers an idyllic setting for relaxation and rejuvenation. Visitors can indulge in various activities such as yoga and meditation, immersing themselves in a calming ambience. Kovalam is also known for its Ayurvedic spas and wellness retreats, where ancient healing practices help restore balance and harmony.
Adventure Activities at Kovalam Beach
For adventure enthusiasts, Kovalam Beach offers many thrilling water sports and recreational options. Surfing and windsurfing are popular activities, allowing visitors to ride the waves and experience an adrenaline rush. Kayaking and canoeing allow one to explore the tranquil backwaters surrounding the beach. Jet skiing and parasailing offer a unique perspective of the coastline while snorkelling and scuba diving reveal the vibrant marine life beneath the sea's surface.
Lighthouse Beach: The Heart of Kovalam
Lighthouse Beach, situated in Kovalam, holds a special place in the hearts of visitors. It is adorned with a magnificent lighthouse that serves as a symbol of the area. The beach provides a scenic promenade for leisurely walks, allowing visitors to soak in the natural beauty. The lighthouse itself has historical significance and offers panoramic views of the coastline from its top.
Hawa Beach: The Perfect Blend of Serenity and Adventure
Hawa Beach, also known as Eve's Beach, is another gem of Kovalam. It stands out due to its unique rock formations and cliffs that add to its charm. Hawa Beach is the perfect spot for serenity and adventure, where visitors can relax on the golden sands or engage in beach activities such as beach volleyball or sunbathing.
Samudra Beach: A Serene Escape
Samudra Beach, located towards the northern end of Kovalam, provides a tranquil escape from the bustling crowds. Its serene ambience and secluded atmosphere offer a peaceful retreat for those seeking solitude. The beach is also home to local fishing villages, giving visitors a glimpse into the vibrant coastal culture and way of life.
Accommodation Options
Kovalam Beach offers a range of accommodation options to suit every traveller's needs. Luxurious beachfront resorts provide a lavish stay with stunning views of the Arabian Sea. Budget-friendly guesthouses and homestays offer comfortable accommodations for those travelling on a tighter budget. For a unique experience, options such as beach huts or eco-friendly resorts blend harmoniously with the natural surroundings.
Local Cuisine and Dining Experiences
Kerala is renowned for its delectable cuisine, and Kovalam Beach is no exception. Visitors can savour the flavours of traditional Kerala dishes, known for their aromatic spices and unique preparation techniques. From fresh seafood delicacies to vegetarian and vegan options, there is something to tantalize every taste bud. The beachside restaurants and eateries provide a delightful dining experience, combining delicious food with stunning beach views.
Cultural and Historical Attractions Nearby
Exploring the vicinity of Kovalam Beach reveals a treasure trove of cultural and historical attractions. A visit to the nearby Padmanabhapuram Palace offers a glimpse into the grandeur of Kerala's royal heritage. Thiruvananthapuram, the capital city of Kerala, is rich in history, with its temples, museums, and architectural marvels showcasing the region's cultural legacy.
Excursions and Day Trips
Beyond Kovalam Beach, there are exciting excursions and day trips to explore. Poovar, a nearby destination, offers enchanting backwater cruises that allow visitors to immerse themselves in Kerala's unique ecosystem. Wildlife sanctuaries and national parks in the region allow nature enthusiasts to witness the diverse flora and fauna. Waterfalls and natural wonders dot the landscape, captivating visitors with beauty and tranquillity.
Shopping and Souvenirs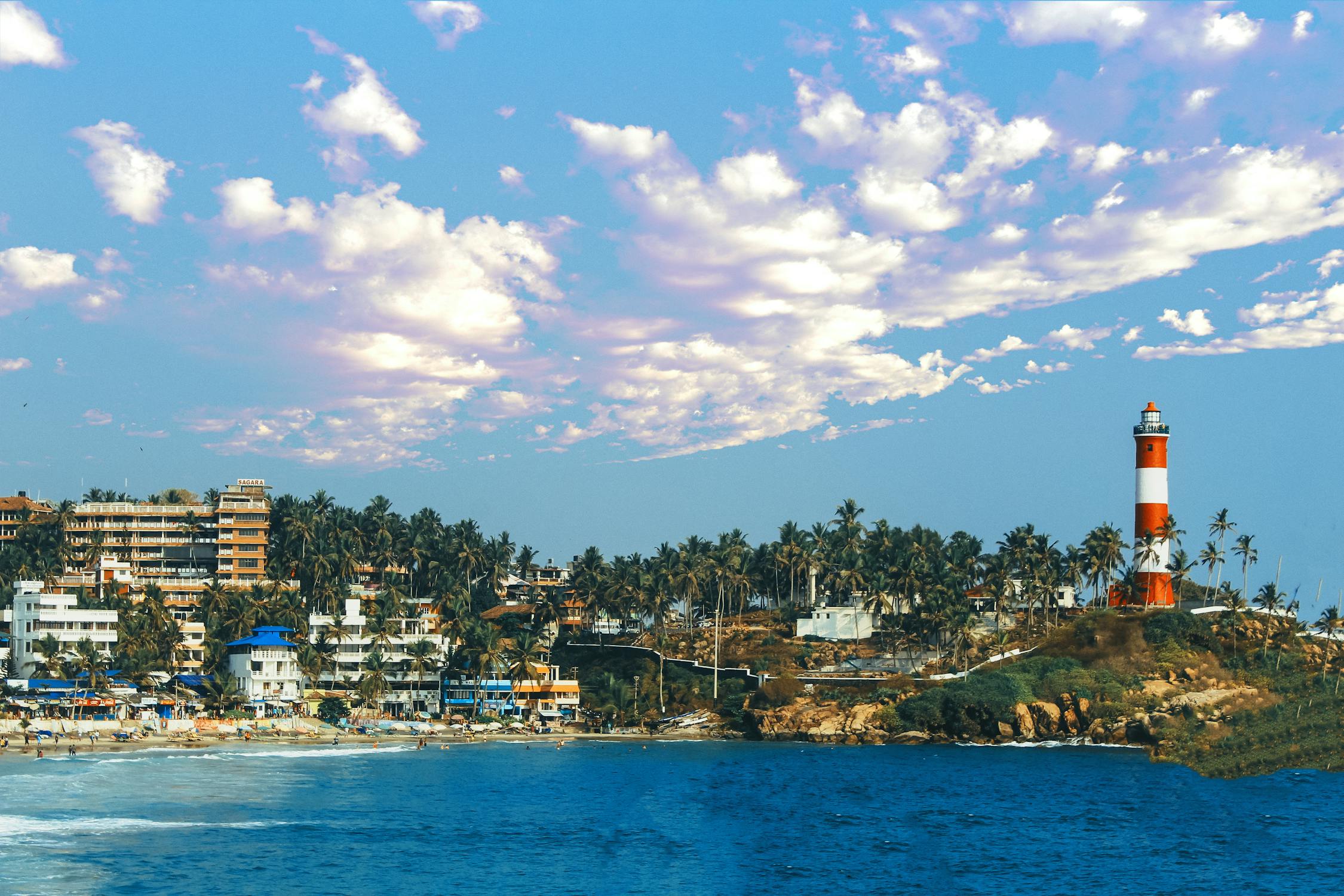 Shopping enthusiasts will enjoy exploring the local markets and shopping centres near Kovalam Beach. These vibrant hubs offer a variety of goods, including unique handicrafts, traditional products, clothing, and souvenirs. Visitors can take home a piece of Kerala's culture and heritage as a memento of their memorable trip.
Safety and Travel Tips
When visiting Kovalam Beach, it is essential to be aware of safety guidelines to ensure a pleasant experience. Familiarize yourself with local customs and etiquette to show respect for the culture and traditions. Transportation options, including taxis, auto-rickshaws, and buses, are readily available, making it convenient to explore the area.
Best Time to Visit Kovalam Beach
The weather and seasons are crucial in planning a visit to Kovalam Beach. Different months offer unique experiences, so choosing the right time based on your preferences is essential. The ideal months for specific activities, such as water sports or witnessing mesmerizing sunsets, can vary, and it is recommended to check the local weather conditions before planning your trip.
KOVALAM VIDEO
Summary: Unforgettable Experiences at Kovalam Beach
In conclusion, Kovalam Beach is a captivating destination that combines tranquillity and adventure seamlessly. From the serene atmosphere and pristine sandy beaches to thrilling water sports and recreational options, it offers an array of experiences for all types of travellers. With its cultural and historical attractions, delectable cuisine, and unique shopping opportunities, Kovalam Beach promises unforgettable memories to those who visit.
Frequently Asked Questions (FAQs)
How do I reach Kovalam Beach?
To reach Kovalam Beach, you can take a flight to Trivandrum International Airport, which is the nearest airport located approximately 15 kilometers away. From the airport, you can hire a taxi or take a local bus to reach Kovalam Beach. Alternatively, you can also reach Kovalam Beach by train. The nearest railway station is Trivandrum Central, which is well-connected to major cities in India. Once you reach Trivandrum, you can hire a taxi or take a bus to reach Kovalam Beach.
What are the popular water sports activities available?
Kovalam Beach offers a range of exciting water sports activities for visitors to enjoy. Some of the popular water sports activities available include surfing, kayaking, parasailing, snorkeling, and jet skiing. These activities provide thrilling experiences and a chance to explore the beautiful waters of Kovalam Beach. Whether you are a beginner or an experienced water sports enthusiast, there are options available for everyone to enjoy.
Are there any restrictions or guidelines for beach activities?
Yes, there are certain restrictions and guidelines in place for beach activities at Kovalam Beach. It is important to follow these guidelines to ensure your safety and the well-being of others. Some common guidelines include:
Swimming in designated areas only.
Obeying lifeguard instructions.
Avoiding swimming during rough sea conditions.
Not littering the beach and using dustbins provided.
Respecting the local culture and avoiding any disruptive behavior.
Which is the best time to witness mesmerizing sunsets at Kovalam Beach?
The best time to witness mesmerizing sunsets at Kovalam Beach is during the evening hours, approximately between 6:00 PM and 7:00 PM. The beach offers a picturesque view of the sun setting over the Arabian Sea, creating a captivating and tranquil ambiance. It is recommended to check the local sunset timings or consult with locals for the most accurate timing based on the specific season and time of year you plan to visit.